PharmaScout is passionate about ethical medical care, and partnered with HOPE Cape Town to ensure they could deliver on their mission and be fully compliant on new premises.
We knew HOPE Cape Town would benefit from our specifically designed, pharmaceutically-compliant fridges because of the good work they do administering medical care. 
HOPE (HIV Outreach Prevention Education) is a registered non-profit organisation based in Cape Town, that aims to raise the quality of life of people and communities. They focus on children and their families, specifically those in situations of poverty, HIV/AIDS and related illnesses.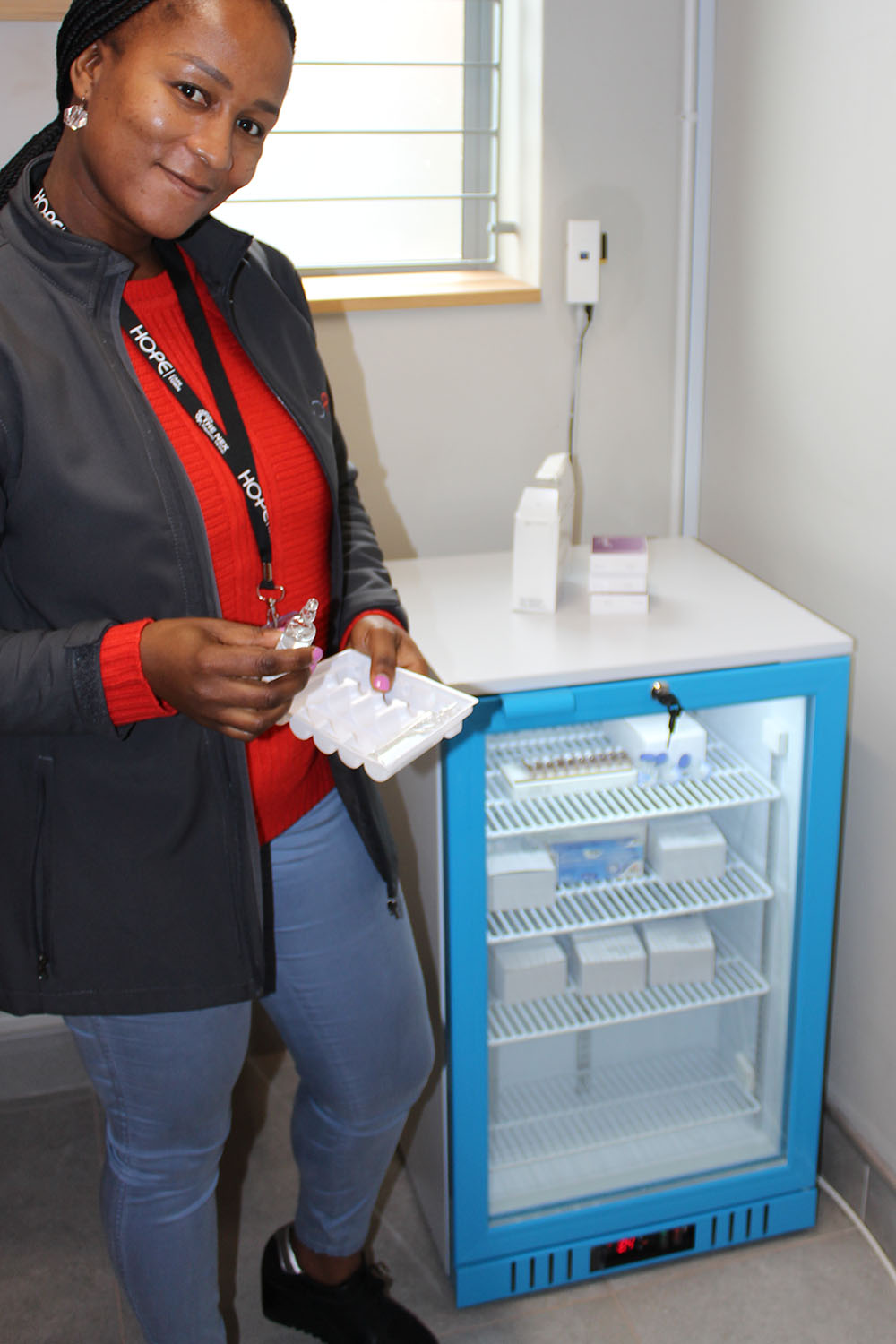 "…we needed reliable equipment that could reduce costs and keep our medication safe."
Administering vaccines is an important part of their outreach and their centre in Delft was in desperate need of top-tier medical equipment. "Despite being around for 21 years, we've never had our own facilities," explains Dr Izane Reyneke, CEO at HOPE Cape Town. "In order to be compliant with legislation, we needed to have all the equipment and furniture on-site, and the additional burden to stock all the needed equipment was quite big. Additionally, this location doesn't have staff  on-site 24 hours a day, so we needed reliable equipment that could reduce costs and keep our medication safe." 
In addition to these challenges, HOPE Cape Town also needed to ensure their vaccines, and other medical stock, were kept safe despite loadshedding and an irregular power supply. This is where the PharmaScout fridges have proved invaluable. 
Our passion for HOPE Cape Town's mission inspired us to donate a Pharmascout refrigerator – a full-scale medical solution – to the organisation. Our fridges use unique technology to ensure the contents remain within 2 – 8 °C, which keeps our customers compliant and preserves the cold chain for supplies like vaccines, which are particularly vulnerable to temperature fluctuations. 
Though not designed to control temperatures without electricity, "If the fridges are packed to spec, the fridges will retain the temperature between 2 and 8 degrees," says Sales Manager Garth Littlewood, "If there is an extended outage then some vaccines could be at risk but even with the fridge being off there is that advantage over the normal domestic fridge." 
Quiet compressors, to allow for personal patient care with minimal noise

 

The fridges use Ozone friendly gases and have powerful fans to increase airflow (which is optimal for a medical fridge) and to maintain consistent temperatures throughout the fridge, something domestic fridges can't do.

 

The fridges use digital controllers for pinpoint accuracy,
The auto defrost function means you don't ever have to empty your fridges again.
Uniquely designed interior made with the stocking of medical supplies top of mind

 

Daily reports sent on the state of the fridge and its contents
The difference that saves lives
"These fridges have made a huge difference to our peace of mind, any time day or night," says Dr Reyneke, "They were necessary for our accreditation which fast tracked our agreements and ensured we could ethically distribute our vaccines. Since we're not on site 24 hours a day, it is crucial to have safe storage. With the PharmaScout daily reports, I always know what's going on."  
All of these unique features of the PharmaScout fridge have not only ensured that HOPE Cape Town was legally compliant and able to stock their medical services, but also ensured their patients receive the quality of care they deserve. 
"I recommend PharmaScout," says Dr Reyneke, "Their approach was professional, the installation was done in a flash, and I am happy with our partnership." 
PharmaScout fridges are uniquely designed for medical environments where stock needs to be kept compliant and well-refrigerated. Learn more about our refrigerator solution here.